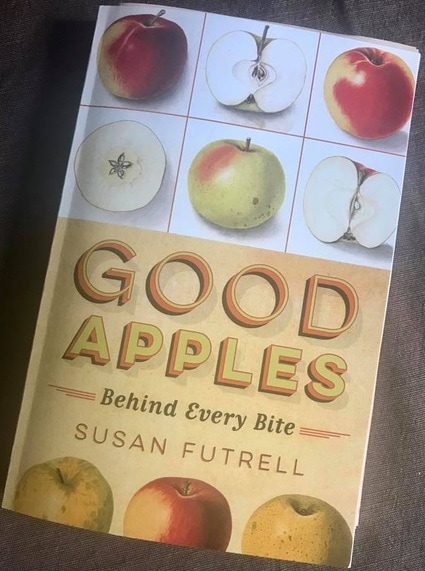 Good Apples
out now! I'm delighted to introduce you to the remarkable people –- apple growers, workers, scientists, historians, and more-- who make good apples possible.
​
Ask your favorite bookseller to order now:
http://www.indiebound.org/book/9781609384821
or order directly from UI Press:
https://www.uipress.uiowa.edu/books/2017-fall/good-apples.htm
Apples are so ordinary and so ubiquitous we often take them for granted. Yet it is surprisingly challenging to grow and sell this beloved fruit.
Good Apples
is for anyone who wants to go beyond the kitchen and backyard into the orchards, packing sheds, and cold storage rooms; into the laboratories and experiment stations; and into the warehouses, stockrooms, and marketing meetings, to better understand how we as citizens and eaters can sustain the farms that provide fruit and food for our communities.
Susan Futrell has spent over thirty-five years working in sustainable food distribution, including more than a decade with apple growers in the Northeast. She shows us why producing diverse, tasty apples for today's market requires almost as much ingenuity and interdependence as building and maintaining a vibrant democracy.
"With authority and grace,
Good Apples
cuts all the way to the core of our present-day agricultural system, probing not only the challenges of producers but the responsibilities of consumers toward our favorite fruit. A great read and stunning debut for Susan Futrell."—Mary Swander, author,
Farmscape: The Changing Rural Environment
"Susan Futrell weaves apple history, labor, production, and marketing issues around the frustrations, never-ending work, and unpredictable climate that apple growers cope with, sustained often only by passion and hope. Susan's keen observations of one of the world's great food commodities are reality checks for the industry and will enlighten both professionals and aspiring apple growers."—Tom Burford, author,
Apples of North America
"Join Susan Futrell's journey from New England to Iowa to Washington to meet the growers working to produce perfect apples with exactly the crunch and flavor people want. This is a story of the uncertainties of a changing climate, a dance of managing pests and weather and second- guessing a global, unforgiving apple market to make a living and hold onto the land. Susan Futrell issues a gentle call to action to embrace the dazzling complexity of farming with all of our compassion and intelligence."—Glenda Yoder, Farm Aid
For more information, or to schedule a reading or presentation for your bookstore, food and sustainability studies course, apple festival, local food event, or other event, contact the author here:
https://susanfutrell.ink/contact.html